InFocus 2016 is here, bringing refined experience and performance. It also sets a foundation for infinite expandability through the upcoming InFocus Marketplace. Here are some highlights.
Streamlined Time & Expense + Mobile Approval
The most frequently used applets in InFocus—time and expense—have been streamlined for easier entry and browsing.
Notably, you can now approve and reject time sheets through our mobile/web interface…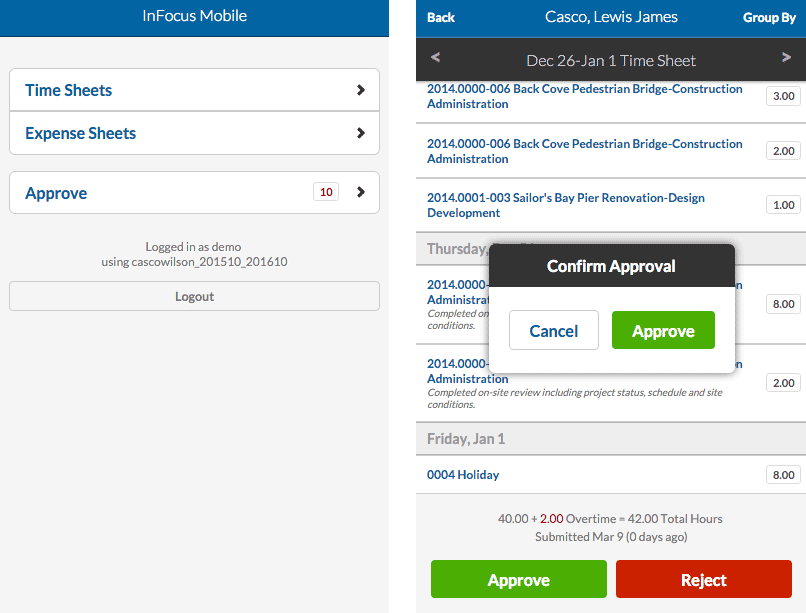 Better Performance + New Gantt Chart
In addition to project performance improvements, InFocus 2016 introduces a new Gantt chart. It streamlines your ability to plan and order tasks, and provides feedback on the impact of scheduled items.
And Coming this May… InFocus Marketplace
InFocus is becoming even more powerful and easier to expand. New reports, invoices, dashboard widgets, utilities and third-party integrations will soon be a click away. InFocus Marketplace is almost here and InFocus 2016 is already made for it. Stay tuned.
Available Now
InFocus 2016 is available now on InFocus Cloud and on April 22, 2016 for InFocus In-House. We hope it helps AE firms be even more profitable and productive.